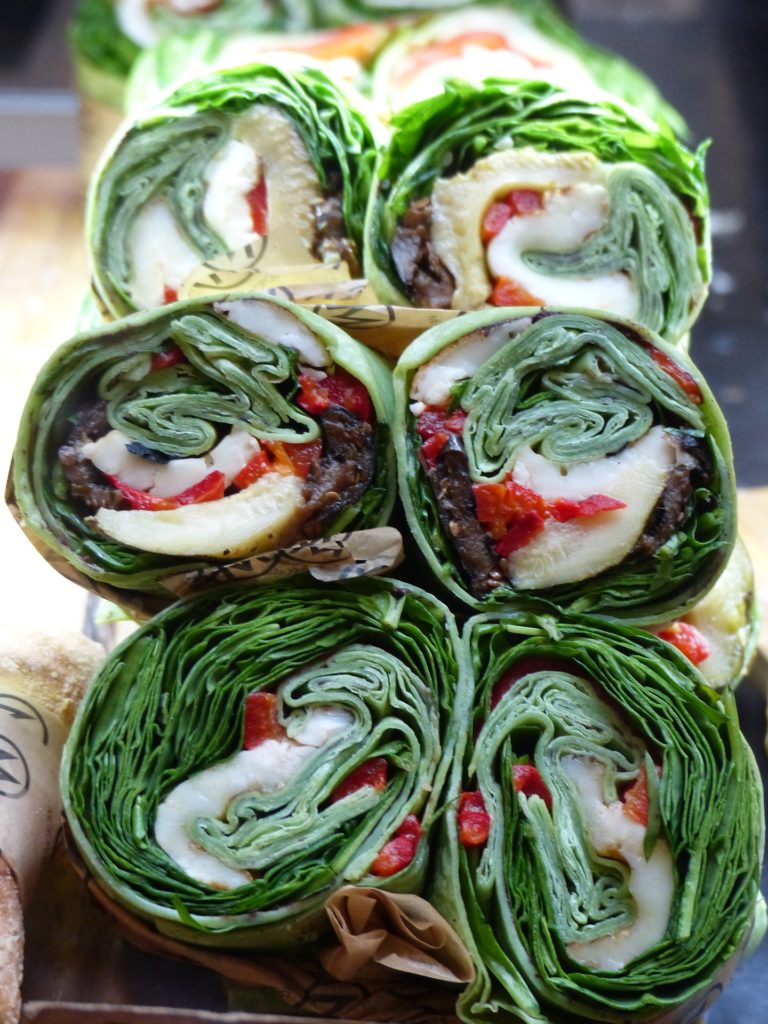 Wraps are versatile, quick and portable, making them great for those busy days!
They are also easily made into a balanced meal or substantial snack with so many options to include protein, carbohydrates and beneficial fats.
Below are some simple, whole-food-based ideas to give you some inspiration when assembling your wrap…remember; these are just a few examples – do it your way – use up those left overs, start from scratch and include what you feel like or have available today – change it up – toast it or don't toast it – the wrap world is your oyster – make it yours and enjoy! 🙂
Choose your wrap:

Wholegrain wrap or mountain bread
Nori sheet
Large lettuce leaf ie; iceberg or butter, romaine
Left over pancakes/crepes
Choose your spread:

Hummus
Cashew cheese or cottage cheese
Mashed avocado
Mashed roasted pumpkin or sweet potato
Tzatziki
Pesto
Veggie dip ie; beetroot
Choose your protein:

Cooked chicken/lamb/turkey/beef strips or mince
Cooked tofu or tempeh strips
Sliced boiled egg
Sliced cooked falafel
Mashed legumes (ie; lentils, chickpeas, kidney beans etc)
Smoked, baked or tinned salmon, tuna, trout
Choose your veggies (sliced or grated):

Capsicum
Carrot
Radish
Cucumber
Leafy greens
Purple cabbage
Snow peas
Tomatoes
Pre-cooked veggies ie; broccolini, green beans, asparagus etc
Optional additions:

Cooked and cooled brown rice
Cooked and cooled quinoa
Fresh herbs – parsley, basil, coriander
Sesame seeds
Sauerkraut
Whole egg mayonnaise (can be used for dipping if you prefer)
Soy or tamari (can be used for dipping if you prefer)
Your salad dressing or mustard of choice (can be used for dipping if you prefer)
Bean sprouts
Avocado strips or chunks
Assemble:
Layer your spread onto your wrap, then layer on the protein and veggies
Add any optional additions, roll up and chop in half, quarters, or enjoy as is!
** The ideas above are more savory than sweet – consider other options like mashed banana, berries or sliced peaches combined with a nut or seed butter spread and perhaps a drizzle of honey for a sweeter version…add a sprinkle of coconut or seeds like chia, sunflower or flax to give it a bit of crunch & a further nutrient boost of nourishing fats and oils x
Image by Brigitte Werner from Pixabay