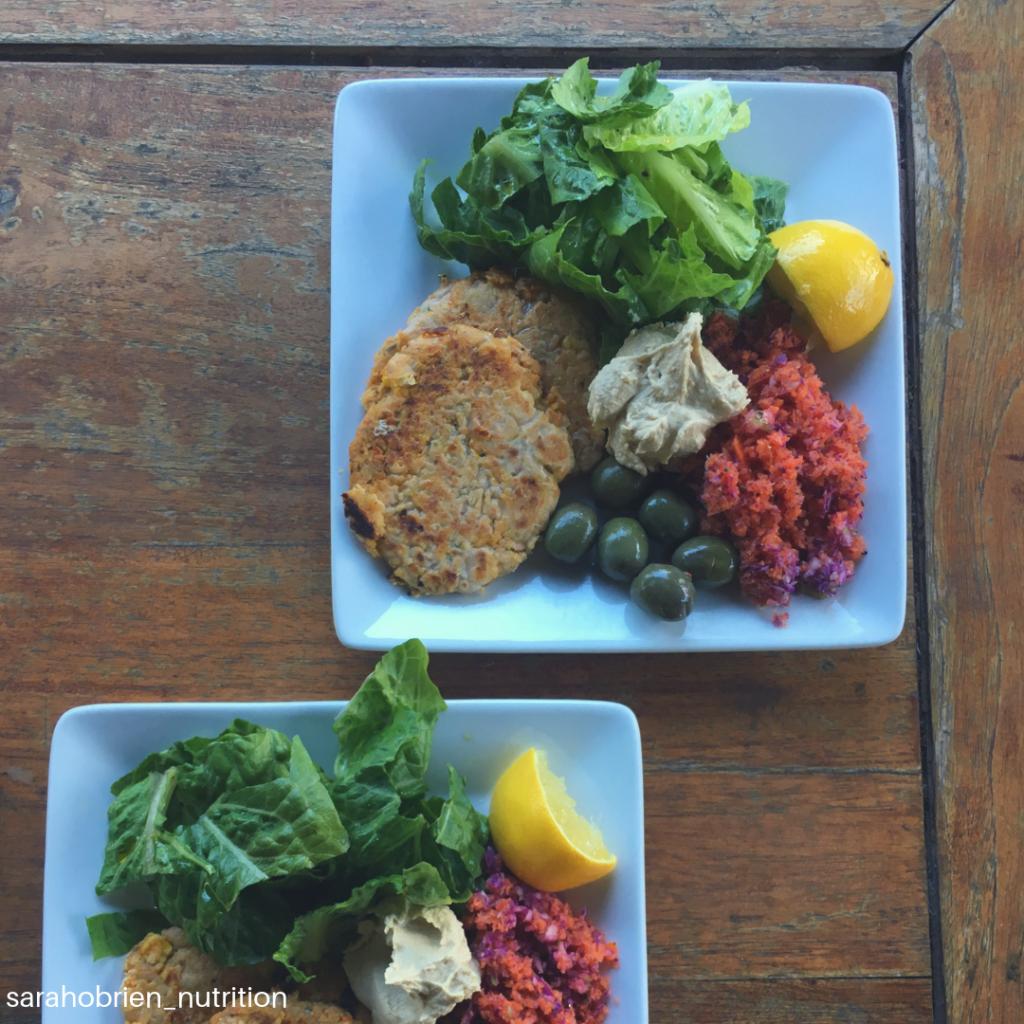 If there's one thing I love more than leftovers (so handy!), it's batch cooking/meal prep when it comes to being able to enjoy nourishing & yummy snacks and meals quickly & easily.
Let's face it…we are often living our own personal version of 'the juggle'…that balancing act between work, family life, social life and exercise time whilst also trying to carve in those slower, 'fill your cup moments'** which can be hard to come by, particularly when things get busy…
I find that having a snack or meal or even just part of a meal pre-prepared on those busy days makes life much easier and also helps me to choose whole foods to base my meals or snacks around.
With that in mind, I'd like to share the recipe I use for bulk cooking salmon & sweet potato patties as it has been a godsend many times over the years during busy work periods, epic days (& nights) combining work and study & now in my current chapter as a new mum.
This recipe is based on one that I was given when I started my own nutrition and natural health journey and over time has changed to suit my tastes – this is what I hope it also becomes for you – a base recipe to change up depending on what you like/prefer/have on hand. They are also pretty versatile – larger patties are great as part of a main meal or in a wrap, and a snack sized ball version is handy for dipping, including in a platter and/or for kids as a finger food.
Boasting some beautiful omega 3 fats and protein from the salmon plus protein and fiber from the chickpeas and fiber and other plant based goodness from the veggies, these are good for the tummy in more ways than one; tasty, filling and nourishing 😊
Ingredients:
2 large sweet potatoes, chopped
2 400g tins of salmon, drained
1 tin of chickpeas, drained & rinsed well
2 zucchinis, grated
2 carrots, grated
1 corn cob (or 1x125g tin corn kernels – rinse well if using tinned)
A large handful of fresh parsley, finely chopped
3-4 eggs (to bind the mixture)
A few tablespoons of your flour of choice to bind the mixture, plus a few more in a bowl on the side for coating the patties
Water as needed when making the patties if the mixture is a bit dry/not sticking
To make:
Steam the sweet potato and mash in a large bowl
Steam the corn, remove the kernels and add them to sweet potato mash

or just add tinned kernels once drained and rinsed if not using corn on the cob

Mash the chickpeas and add to the sweet potato mash
Add the salmon, zucchini, carrot & fresh herbs to the mash and combine
Add the eggs and stir in till combined
Add the flour and combine until the mixture is a good consistency for patties
Spoon mixture into your palm and shape patties

Aim for them to be roughly the size & thickness of your palm to use as a main meal, or make into bite sized balls for snacks

Coat the patties (or balls) in flour and fry for roughly 5 minutes on each side, or until they are golden on the outside and cooked through
Once cool, patties can be served on their own with salad or in a wrap with salad and are delicious served with natural yoghurt & chutney or with a squirt of lemon juice & hummus

These freeze well and can be reheated when needed
Optional swaps to consider:
Swap sweet potatoes for white mashing potatoes or go half and half with carrots
Swap parsley for dill or another herb of your choice
**My personal 'fill your cup moments' tend to be; a day pottering at home with my fiance & daughter, time spent with family & friends, a massage, reading a good book, listening to a podcast or creating in the kitchen, doing some yoga, taking a walk or enjoying a long hot shower…these moments are important to recognise and fit in and are basically whatever helps you to mentally &/or physically reset and find balance – remember, you can't pour from an empty cup! X