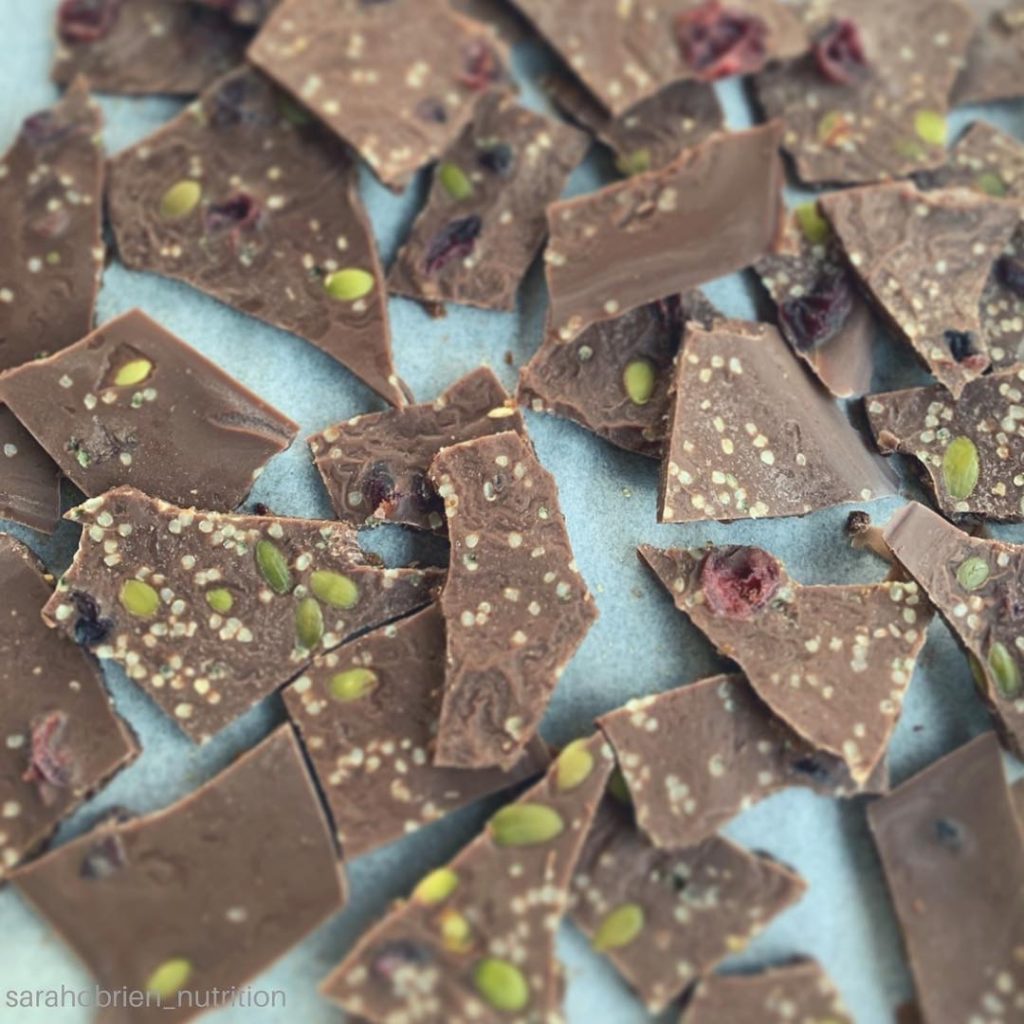 With Easter nearly upon us I thought I'd share the below recipe I use for making raw chocolate…this is an easy and versatile dairy free chocolate that requires only a few ingredients and boasts some lovely antioxidants and essential minerals like magnesium, iron, potassium an zinc from the raw cacao powder.
I have made a 'chocolate bark' version in the picture above (basically one big piece broken into little pieces), however it can also be made in chocolate molds if you prefer. Flavor wise, this version had peanut butter stirred through & was topped w/hemp seeds, pumpkin seeds, dried cranberries & a touch of salt – one of my favorite combos.
I'd like to mention here that whilst we will be enjoying this raw chocolate over the Easter break, and often enjoy it throughout the year, we will also be sharing our Lindt bunnies (an Easter tradition in our house), and possibly other Easter treats that come our way…not all will be raw, dairy free, maple syrup/honey sweetened versions and that is totally OK in my book! I believe that overall, food is to be enjoyed and that the 80/20 rule generally suits most of us pretty well – mindfully choosing nourishing, healthier wholefood options 80% of the time, and allowing yourself 20% of other options if you are so inclined is a nice way to begin to take some of the stress out of eating and help it to be enjoyable – that's what it's all about! 🙂
Base ingredients:
1 cup melted coconut oil (if it is solid due to a cooler room temp, melt it gently in a bowl of water over a saucepan of water on quite a low heat – you want it to be just warm)
1/4 cup raw cacao powder
2-3 Tbsp maple syrup or honey to sweeten (add more to taste if required)
Optional mix in ideas:
Stir though 1 Tbsp peanut butter/tahini/nut butter (add more to taste if required & heat slightly beforehand if it is very hard, to allow it to stir through easily)
Stir through or sprinkle hemp/sunflower/pumpkin/sesame seeds, cacao nibs or buckwheat groats to taste
Stir through or sprinkle dried cranberries or apricots/chopped dates/sultanas/freeze dried berries to taste
Place chopped nuts on the tray before pouring the chocolate over
Sprinkle a pinch of salt or chili flakes over the top
To make:
Add cacao powder to coconut oil and stir to combine, add in your mix in's, pour onto a baking paper lined tray and pop it straight into the freezer.
Once set (usually around 20-25 mins), break the chocolate into rough pieces, store in an air tight container in the fridge and enjoy! 🙂
Notes:
*As this chocolate is made with coconut oil it will melt quickly at room temperature – this is a chocolate to be eaten straight from the fridge, not for storing in lunch boxes or taken to work as a snack for later.
**This is not my recipe, it is a base one I have been using for years having been passed it by a friend – if you look up raw chocolate recipes on the internet you will find loads of variations, usually looking something like this, &/or sometimes using cacao or coconut butter in place of the coconut oil – if you happen to know where the original recipe/s came from let me know – i'd love to give a shout out to whoever created it!