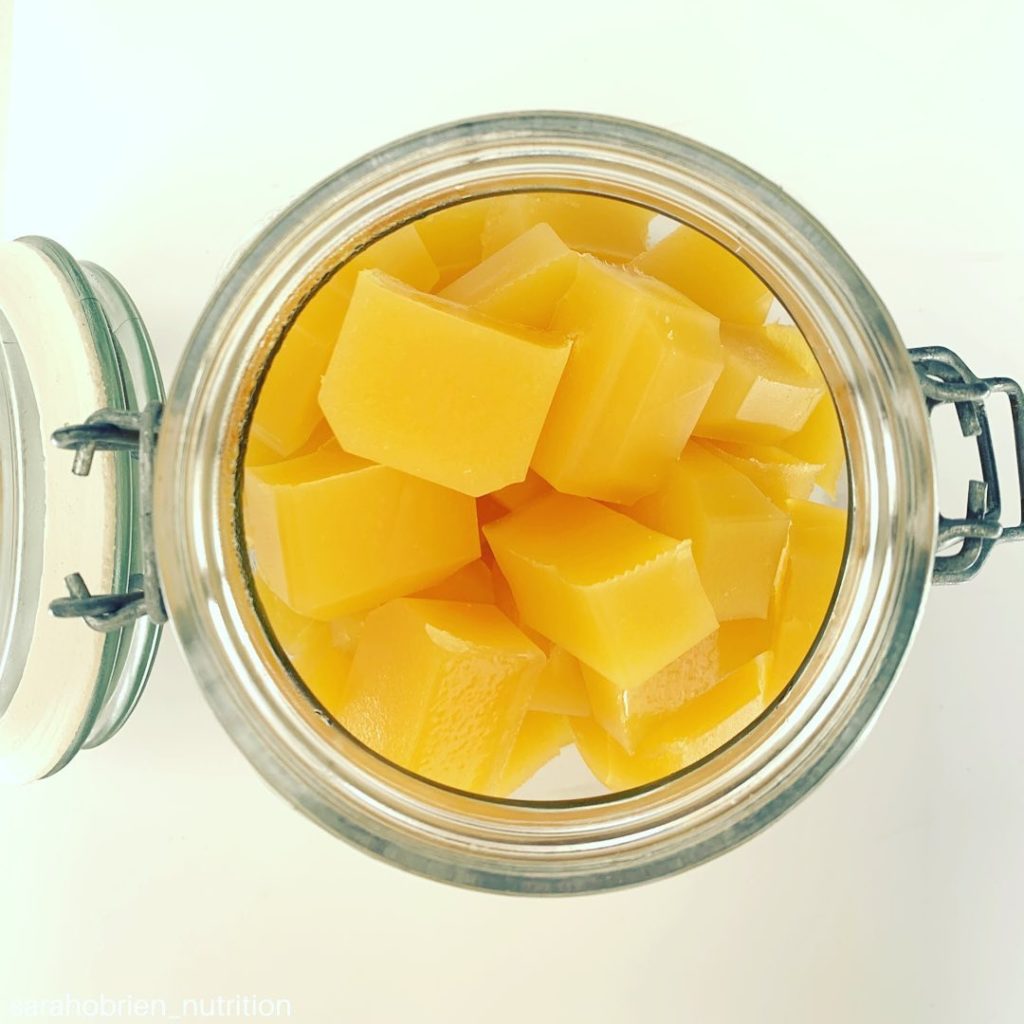 Gelatin powder is a great source of collagen for hair, skin & nail health, can assist with joint health and is very nourishing for the gastrointestinal tract.
A quick and easy way to incorporate gelatin into your diet is to make some gummies…
As a general approach; use 3 tablespoons of gelatin powder** for every 1 cup of liquid.

Refer to the ingredient suggestions below and play around with additions and flavors that you love.

Liquid suggestions:
Fruit juice (ie; freshly squeezed orange, lemon or lime juice or a combination of fruits)
Coconut milk
Kombucha
Frozen berries & lemon juice or water blended to liquid (strain if preferred)
Pre-brewed coffee or matcha (not suitable for children)

Additional flavor suggestions:
1 Tbsp honey (not suitable for babies under 12 months old)
Cacao powder to taste
Cinnamon to taste
Dash of vanilla extract
Sprinkle of turmeric powder
Method:
• Combine 1/3 cup of liquid with the gelatin powder and mix well – leave for 5 minutes until it forms a thick consistency similar to jelly
• Heat the remaining 2/3 cup of liquid in a saucepan on low heat until it becomes warm, but do not allow it to boil
• Remove saucepan from the heat and stir in the gelatin mixture and any additional flavour suggestions – stir until any gelatin clumps are dissolved
• Pour the liquid into a shallow baking dish or silicon ice cube tray or chocolate mold and place in the fridge to set
• Once firm, cut into squares if using a baking dish, or pop out of the ice cube tray or mold and store in an airtight container in the fridge for a few days

Notes
**Ideally, look for organic and grass fed/pasture raised gelatin powder
***The general approach and flavor ideas above are ones I have come to love over time after trying out the different methods and ideas available – if you look up gelatin gummies on the internet you will find loads of variations – if you happen to know where the original recipe/s came from let me know – i'd love to give a shout out to whoever created it!