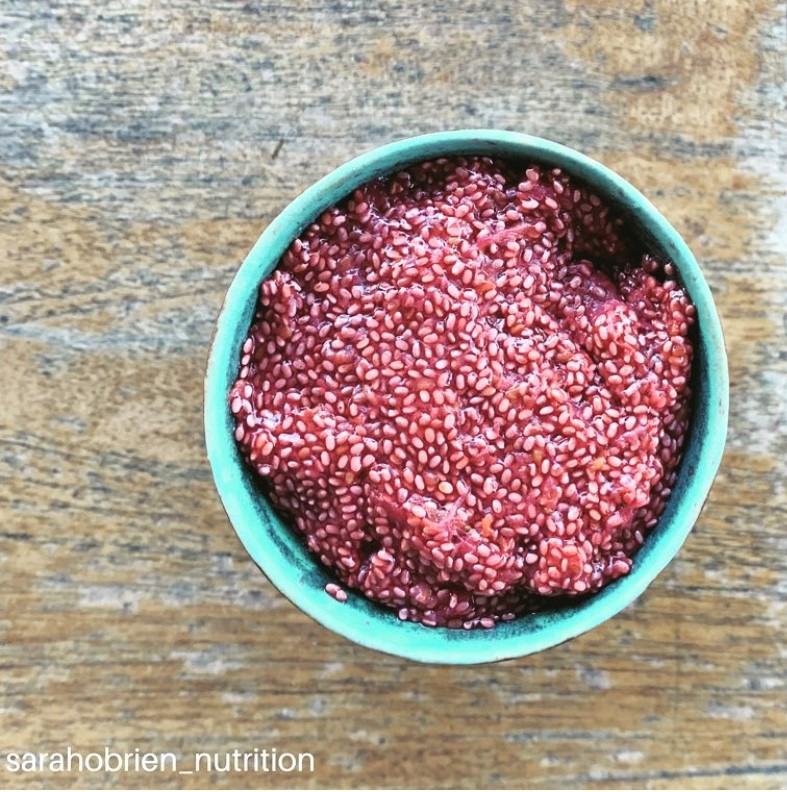 I love this little recipe for making a yummy & nourishing jam that can be used in various ways…
It also uses frozen fruit which is handy for using up that stash of berries you may have tucked away during the season, and also for accessing favorite flavors all year round.
It is simple, quick and, depending on your preferences, only has 3 ingredients…
Ingredients:
2 cups frozen berries*
1/4 cup water
4 Tbsp chia seeds
1-2 tsp vanilla extract**
1-3 Tbsp sweetener of choice ie; honey, maple syrup**
Dash of cinnamon**
Method:
Put berries and water into a saucepan on low heat and stir until the berries soften – mash them gently as you go until you have a puree type consistency – a few chunks are ok 🙂
As the berries start to soften, add in the vanilla, cinnamon & sweetener (if using) and the chia seeds and stir to combine
Remove the saucepan from the heat and leave to cool for around 10 minutes
Pop into a clean and sterilised jar and into the fridge to cool completely – the jam will thicken further as it cools right down
Use within 2 weeks
Some serving suggestions:
> Spread on it's own or combined with nut butter over toast, waffles, pancakes or wraps
> With crackers &/or cheese
> Dolloped on porridge or layered with overnight oats
> Swirled through yoghurt to make a fruity/crunchy dip or snack
> On it's own or paired with stewed apples as a filling layer in a pastry scroll
A bit about chia seeds…
Chia seeds are a rich source of nutrients known to assist with reducing inflammation and cholesterol and regulating bowel function such as omega 3 fatty acids and fiber – they also contain antioxidant compounds which can help to protect the body from free radicals, and are a great inclusion to a nourishing diet.
1 to 2 Tbsp in a day is all you need, and they are great for making chia pudding, sprinkling over salads or muesli or adding to bliss balls and smoothies.
Like flax seeds; chia seeds need to be soaked or cracked to release their omega 3 benefits.
Also keep in mind that they soak up a lot of liquid and expand, so ensuring a good intake of water, especially when using them dry (ie; sprinkling over a salad), is a good idea to help keep things moving in the digestion department, as is allowing them to soak for at least 30 minutes (overnight is ideal) in things like a chia puddings.
Notes:
*Use any berries you like and make it your own – use just one type or a combination – frozen mango chunks also work nicely in this recipe for a different slant
**These are all optional additions depending on your flavor preference – if adding, start with a small amount & add a bit more at a time – taste test as you go
The above recipe is adapted from one I was given by a friend and has been influenced by both my tastes & the many other recipes out there over the years…if you know where the chia jam idea originated let me know, I'd love to give a shout out! 🙂